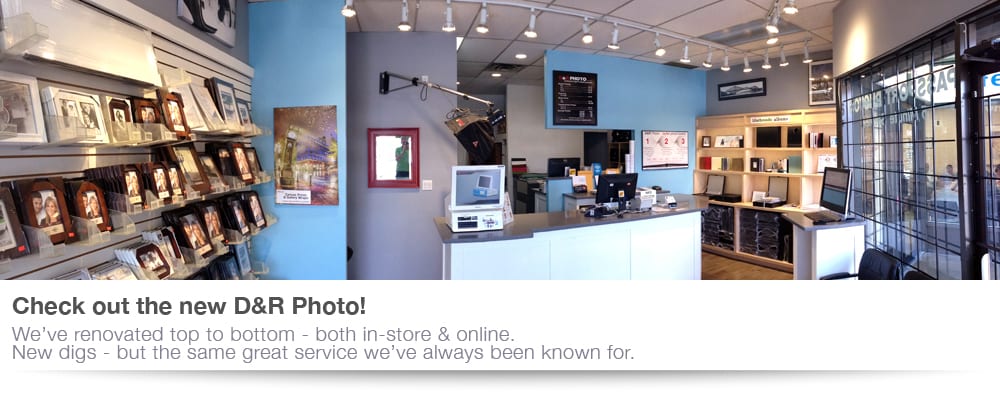 Who is D&R Photo in Vancouver?
Always Lead…Never Follow
D&R Photo in Vancouver has been a forerunner in the Vancouver photographic lab-printing scene since it first opened its doors in 1981. Early in the life of the business, owner's Ross & Dori Funk established a reputation for producing top-notch results with uncompromising customer service.  A hallmark still true of D&R today.
As time & technology have advanced, D&R has adapted to the new demands in this rapidly changing market while continuing to maintain a strong focus on providing premium photographic products all our customers.  Over time, we have morphed into a boutique photo lab providing professional digital photofinishing and two lines of luxury flushmount photo albums.
Recent updates to our business include:
Brand New Noritsu high definition silver halide minilab
New web-based photo ordering system that makes orders faster & more efficient
Free smartphone & tablet apps for photo ordering on the go
Expanded product line available through our website (including photo gift products, cards, calendars & retail photo books)
Creation of Lifethreads Albums – our premium professional flushmount album line
A complete redesign and facelift of the lab/store front
Prints are produced through a silver-halide printing process, still the gold-standard in archival & high-resolution quality. Enlargements, canvas transfers and restoration services are also done in-house rather than being sub-contracted to a third party – just one more way of ensuring that you, the customer, get what you ask for.
In the retail segment, D&R continues to offer a refined selection of frames & albums to help you finish your printing projects. We also offer passport & ID photo service that is fast and accurate.  We eliminate the guesswork from your application process.  For your convenience, we provide a touch-screen customer terminal in-store that allows you to print directly from your digital storage medium (memory cards, USB flash drives, CDs and DVDs).
Our location offers you the chance to avoid the busy downtown area of Vancouver, speak to your lab tech or management face-to-face, grab a coffee, browse while you wait for your prints, and leave with a smile on your face!