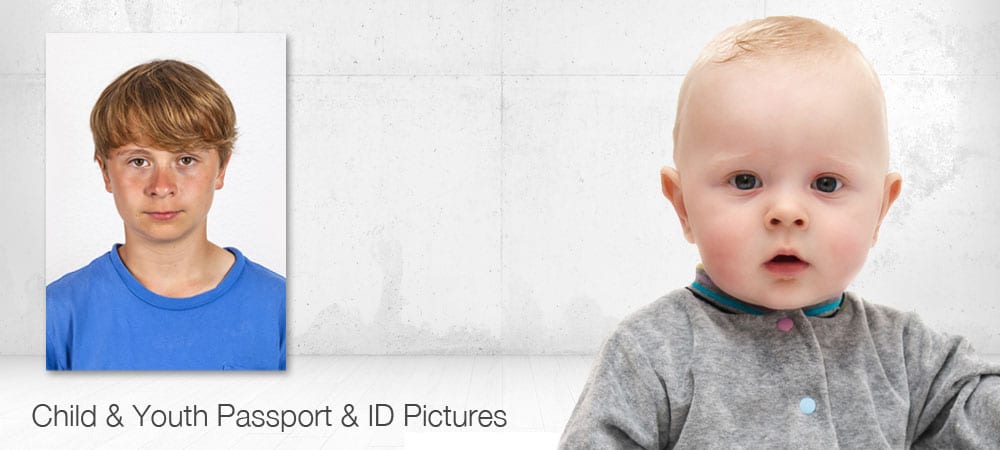 YES!!!  We take Child & Infant Passport & ID Pictures!
We know, you're dreading the moment – vacation is coming and your 1 to 3 year old needs a passport photo. Yikes!
At D&R, we are known for being experts in taking child passport photos. We can take photos for infants, toddlers, children & youth passport & ID pictures.  Our trained staff understands that life with kids is unpredictable.  We are comfortable working with your children and have taken ID photos for children as young as 1-week old**!
**We recommend waiting until your baby can hold his/her head up reasonably well (usually around the 3 or 4 month old mark) in order to make your baby passport experience as painless as possible.
---
We do not charge extra for children's passport photos
$10.71 + tax ($12 including tax) for a set of two prints.
But we do recommend allowing a little extra time to get the job done – most children's passports are ready within 10-15 minutes or less.
---
You can find us at 6530 Fraser Street – Corner of 49th & Fraser next to Starbucks.
---
Quick Tips for Child Passport Photos
Here are some helpful tips to make getting your child's passport photo as easy and painless as possible:
Children must be dressed in dark clothing (to provide contrast to the background)
Children must be wide awake with eyes open
Try to find a time of day when your baby will be awake and happy – we cannot take a passport photo of a crying baby or child, this will not be accepted
Photos cannot be taken in car seats or on parent's laps – we will show you how we need you to hold your baby for the photo
Try to explain to your toddler that this is a serious no smile photo, make a fun joke of it.  They tend to want to smile for pictures, but around age two, there is less leniency with what passes.
Never underestimate the power of bribery!  Not that we condone it or anything, but sometimes a little incentive goes a long way towards a successful passport session with your little ones.
Relax & breathe!  We've had kids, we love kids & we know that they can be unpredictable and uncooperative.  A little patience and we'll get them done.
Visit the Passport Canada website here for more information on children's passport photos.